Fun With Celebrity Pictures: Reese Witherspoon Wins An Oscar
THAT'S RIGHT, BITCHES !!!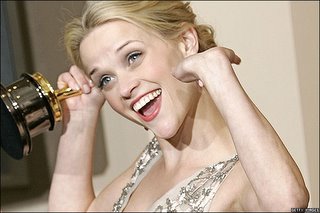 (Image Source: Getty Images / BBC.co.uk)
Staying in the ghetto spirit of the 78th Academy Awards, Reese Witherspoon made sure to keep it real with her "raise the roof" celebration
after being awarded the Oscar for Best Actress for her performance as June Carter in the Johnny Cash biopic, "Walk The Line."
Technorati Tags: DogSpunk, Reese, Witherspoon, Reese Witherspoon, Oscars, Academy, Awards, Academy Awards, June Carter, Johnny Cash, Walk The Line, Ghetto,